IFEX daily log
Wednesday, August 24, 2005
Today was a down day for all three P-3's. N42RF is still undergoing installation and integration of IWRAP, while N43RF and the NRL P-3 are down in anticipation of a possible frequent-monitoring mission on Thursday. The original intent for today was to have N42RF fly a test flight on Thursday, takeoff time 14 UTC. However, continuing problems with the integration of the IWRAP prevented this test flight from occurring.
N43RF has been tasked for a combination SFMR/fix mission into Tropical Storm Katrina, which was located about 200 nm southeast of South Florida and was upgraded to tropical storm status in the morning. Katrina continues to get better organized during the day, with the circulation clear in visible imagery (Fig. 26) and deep convection near the
center during the morning and early afternoon hours (Fig. 27). The track forecasts generally call for Katrina to track toward the northwest and then slow down and turn toward the west (Fig. 28), coming ashore in southern Florida somewhere around Broward or Palm Beach county. The eventual track of Katrina is dependent on the forward speed of the system and the strength of the ridge which the models forecast to amplify and build north of the system. It could become as strong as a minimal hurricane by the time of landfall. It is expected to then track across the peninsula, heading generally westward, and emerge over the Gulf of Mexico sometime around Sunday or Monday. At this p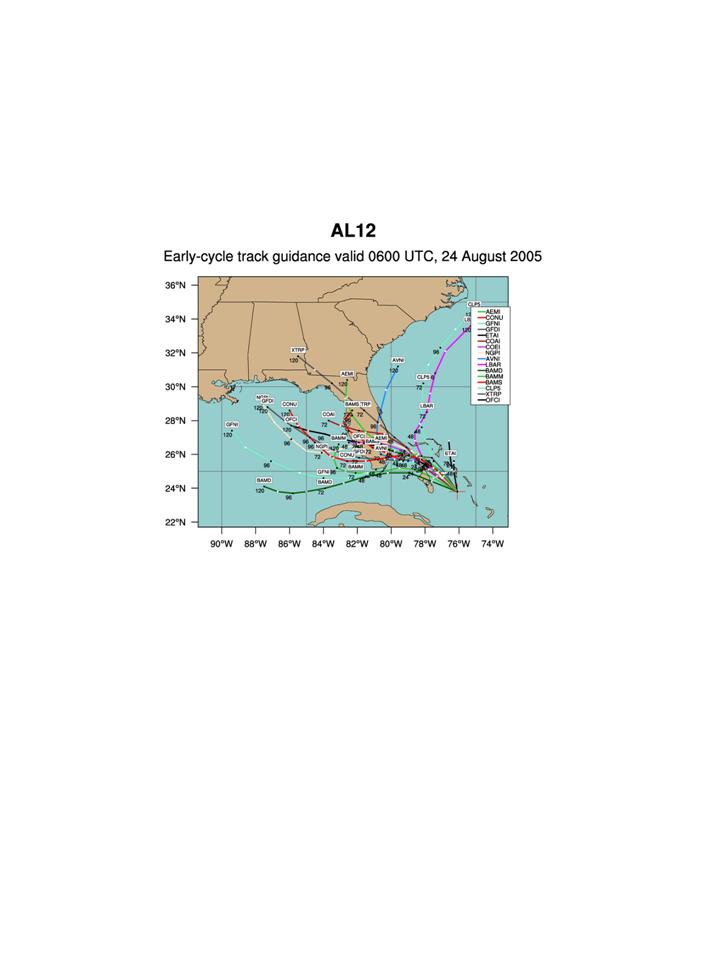 oint it may develop into a hurricane, depending on the synoptic environment in the Gulf of Mexico and the amount of time it spends over open water. The SHIPS statistical/dynamical intensity model predicts it will only attain an intensity of about 45 kt out to five days, however.
Elsewhere there are no other targets of immediate interest for operations. The tropical wave that emerged off Africa several days ago (Fig. 29) has some convection associated with it but it is off to the east of the circulation. If it does develop it is still expected to recurve well east of any possible operations. Another wave following this one that just emerged off Africa has the potential for further development, as some GFS ensemble members develop a vortex associated with this system (Fig. 30).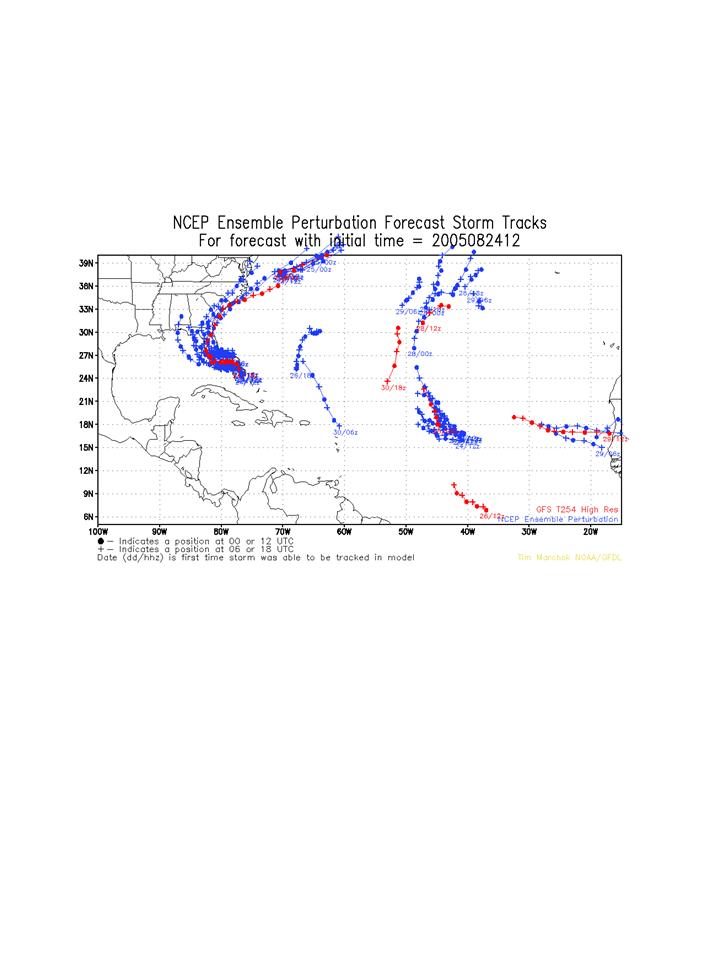 Since N42RF is not flying tomorrow, the plan calls for the NRL P-3 to try to fly some downwind legs in association with the downwind legs that N43RF will fly during its tasked mission tomorrow. Takeoff time for N43RF will be 1330 UTC, while the takeoff time for the NRL P-3 will be sometime around 1600 UTC. The track of Katrina will continue to be watched, as it may be a target late this weekend or early next week if it develops into a hurricane in the Gulf of Mexico.
Rob Rogers
HRD Field Program director
---