3. Coordinated Landfall mission: Since Gustav was in the process of making landfall during the flight, a mission was coordinated with land-based sensors. Several groups were involved, including TTU, FCMP, and UAH. See figure below for locations.



Figure 3. Flight track near land showing locations of land-based towers. Also shown are locations where on-shore/off-shore/shallow water modules were performed.

4. On-shore/off-shore flow: To assess boundary-layer structural differences between off-shore and on-shore flow, a series of GPS dropsondes were deployed in these regimes. Six sondes were dropped in offshore flow (NW of center) beginning at 1146 UTC, spaced around 2 minutes apart. On-shore winds were measured to the NE of the center from a set of 5 sondes dropped beginning at 1237 UTC. See Fig. 3.

5. SFMR in shallow water: Much of the flight was conducted over coastal waters with depths less than 50 m. Numerous dropsondes were deployed over the shelf to evaluate SFMR wind measurement capabilities in shallow water. In particular, the on-shore flow leg to the E/NE of the storm was flown over very shallow water, just east of sandbars associated with the Chandelleur Is. string. See Fig. 3.

Four Doppler wind analyses were completed and transmitted.
Summary of Expendables

| | |
| --- | --- |
| GPS dropwindsondes | 44 |
| AXBTs | 19/19 |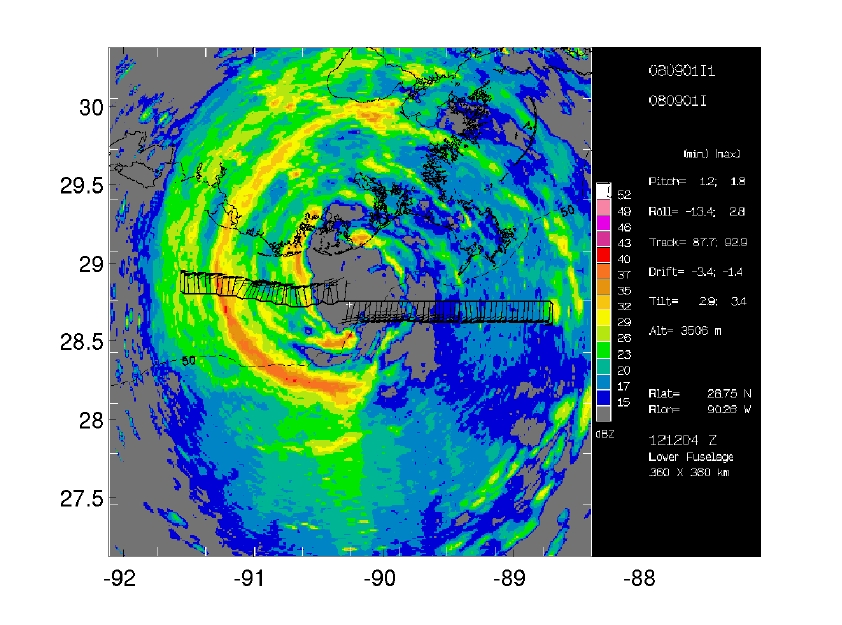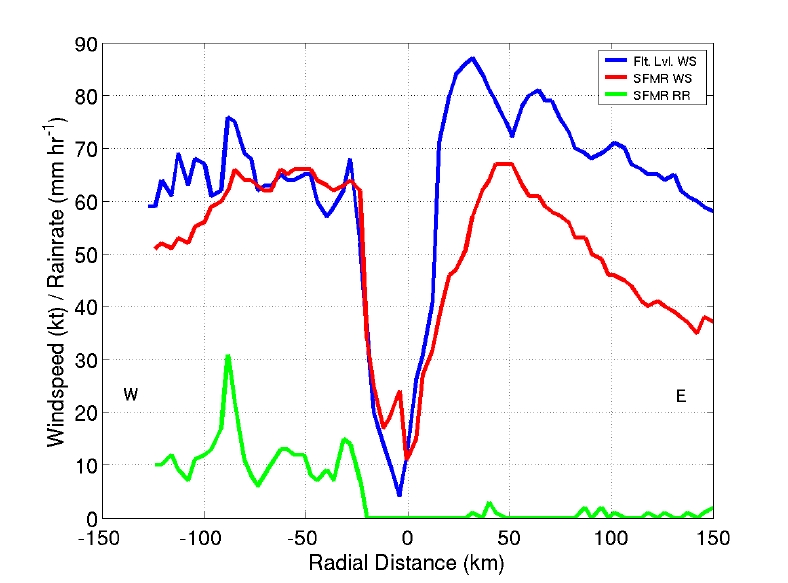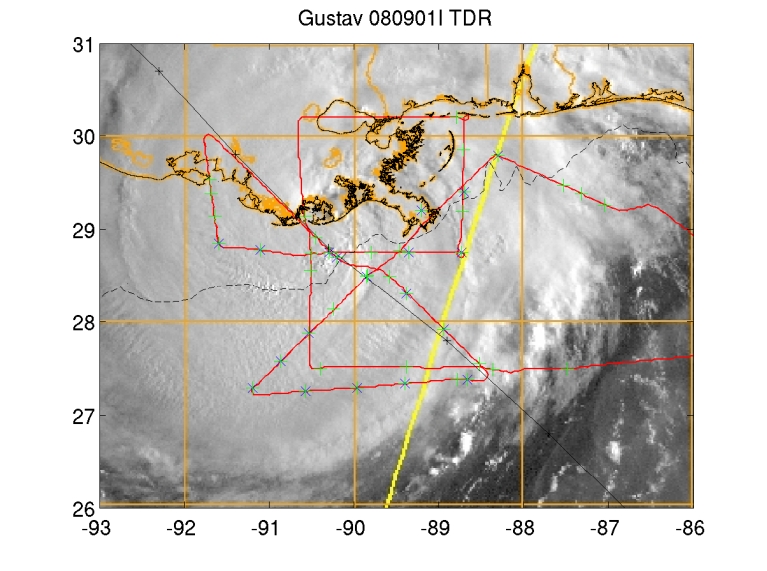 Figure 4. LF radar reflectivity (left), Flight-level and SFMR wind and rainrate for Leg #1 (center), and VIS sat. image and flight track, with GPS dropwindsondes in green, AXBTs in blue (right).

Problems :

No major problems to report.

EWU
23 April 2009
---
Mission Data
Dropsonde plots
700 mb
850 mb
925 mb
Surface
NetCDF listing | One second listing
---
Page last updated April 23, 2009