Mission Summary
20080831I1 Aircraft 43RF
Gustav Tail Doppler Winds flight 2008
Scientific Crew (43RF)

| | |
| --- | --- |
| Lead Project Scientist | Eric Uhlhorn |
| Workstation Scientist | Paul Leighton |
| Dropsonde Scientist | Jun Zhang |
| Videographer | Erica Rule |
| Radar Scientist | Frank Marks |
| NOAA CIO | Joe Klimavicz (CIO-NOAA) |
Flight Crew (43RF)

Pilots
M. Nelson
C. Newman
A. Ebhardt
Flight Director
J. Parrish
Navigator
T. Gallagher
Flt. Eng.
Dewey
Data Tech
T. Lynch
J. Smith
Elec. Tech
D. Naher
Steve Wade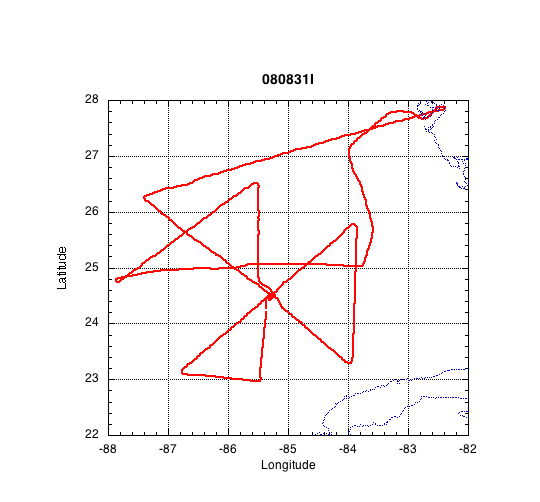 Mission Plan :
N43RF will fly a EMC-tasked Tail Doppler Winds mission into Hurricane Gustav. It will leave MacDill AFB, FL at 08:00 UTC, and recover at MacDill. The planned flight altitude was 12000', and a "modified" rotated figure-4 pattern with 105 nmi radial legs designed to obtain four separate Doppler wind analyses. The modification of the pattern was an extension to the NW to obtain ocean temperature profiles from AXBTs ahead of the storm.
Mission Summary :
Take off
Landing
MacDill AFB, FL
08:08 UTC
MacDill AFB, FL
14:50 UTC
N43RF took off from KMCF at 0808 UTC on 31 Aug. Flight proceeded to SW from KMCF to an IP N of storm (27.22°N, 84.51°W) at 0837 UTC. At this point, 7 AXBTs were deployed along a line toward the SW to a point NW of the center, at which the in-storm pattern was begun on a leg toward the SE. Leg #1 began at 0918 UTC, reaching the center of the storm at 0952 (MSLP 959 mb). The leg was terminated at 1015 UTC SE of the center, at which time the flight turned N.
Leg #2 began at 1042 to the NE of the storm, reaching the center at 1108 (MSLP 960 mb), and continuing to the SW to complete the leg at 1134 UTC, when 43 turned east. Leg #3 was begun to the S of the storm. The S/SE eyewall was void of precipitation, and an SFMR "roll maneuver" was conducted to obtain high incidence angle (30 and 45°) TB data. Surface winds were ~35 m/s. After completion of the maneuver, N43RF proceeded to the center (MSLP 961 mb), exiting to the N to complete the leg at 1246 UTC. The flight then turned to the SW to a point W of the center. Leg #4 was begun at 1345 UTC, reaching the center for the final penetration (MSLP 962 mb), completing the in-storm pattern to the E of the center at 1415 UTC. N43RF then returned to base, landing at 1450 UTC.
Four Doppler wind analyses were completed and transmitted.
Summary of Expendables

| | |
| --- | --- |
| GPS dropwindsondes | 24 |
| AXBTs | 18/19 |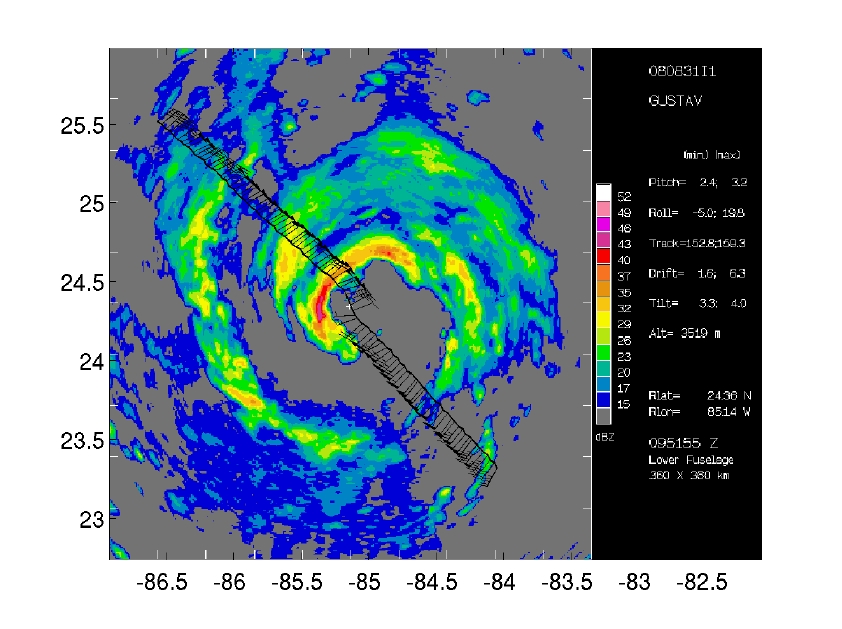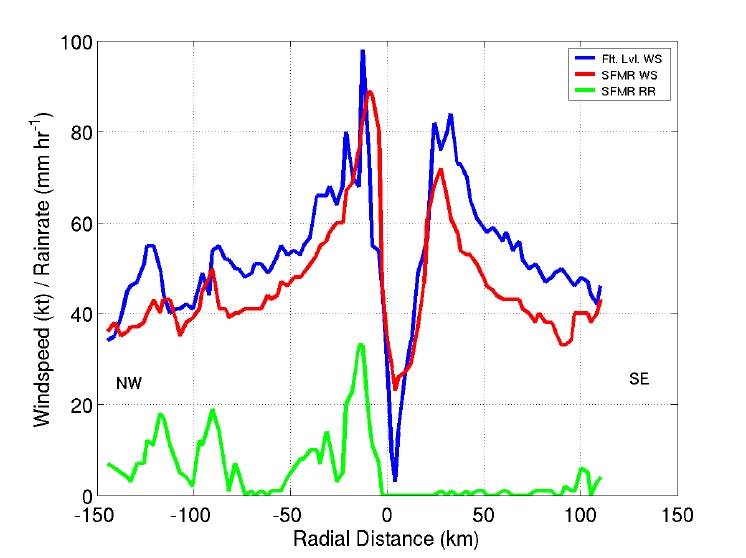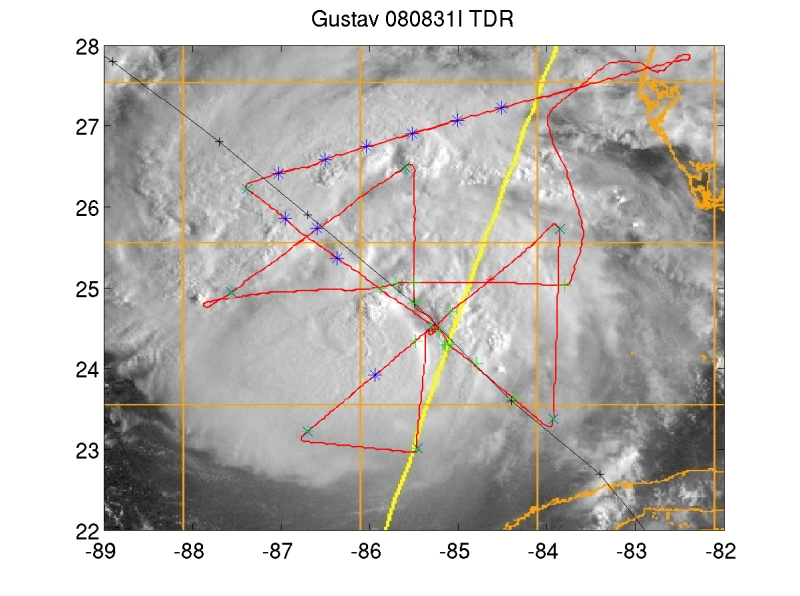 Figure 1. LF radar reflectivity (left), Flight-level and SFMR wind and rainrate for Leg #1 (center), and VIS sat. image and flight track, with GPS dropwindsondes in green, AXBTs in blue (right).
Problems :
No major problems to report.
EWU
23 April 2009
---
Mission Data
NetCDF listing | One second listing
---
Page last updated April 23, 2009
Return to Mission page.