Mission Summary
20141015I1 Aircraft 43RF
Ocean Winds flight
Aircraft Crew (43RF)

| | |
| --- | --- |
| Aircraft Commander | Justin Kibbey |
| Co-pilot | Chris Kerns |
| Co-pilot | Scott Price |
| Navigator | Tim Gallagher |
| Flight Engineer | Joe Klippel |
| Flight Engineer | Chris Lalonde |
| Flight Director | Rich Henning |
| System Engineer | Dana Naeher |
| Data Technician | Terry Lynch |
| AVAPS | Todd Richards |
| Maintenance | Lonnie Kregelka |
Scientific Crew (43RF)

| | |
| --- | --- |
| LPS | Paul Chang (NESDIS) |
| IWRAP | Zorana Jelenak (NESDIS) |
| IWRAP | Sulieman Alweiss (NESDIS) |
| IWRAP | Joe Sapp (NESDIS) |
Mission Plan :
NOAA43 will conduct a NESDIS-tasked Ocean Winds mission into Hurricane Gonzalo. Takeoff is scheduled for 1200 UTC from MacDill AFB, FL and recover at St. Croix, USVI by 2100 UTC.
<!a href=20141015I1_track.jpg
Mission Summary :
Take off
Landing
MacDill AFB, FL
11:30 UTC
St. Croix, USVI
17:30 UTC
Penetrations
1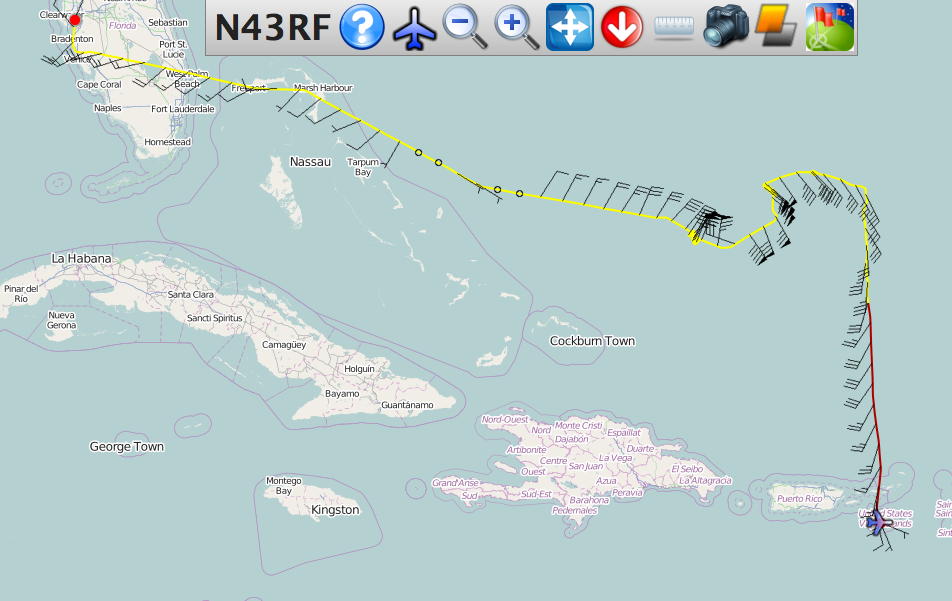 Final track
1 dropsonde deployed and transmitted.
Mission Evaluation:
Problems:
Flight aborted due to illness.
Mission Data :
NetCDF file | 1 second data | serial data | SFMR data | serial | Flight Director's log | Flight Director's log

---
Page last updated Nov. 18, 2014
Return to Mission page.