Mission Summary
20080818H1 Aircraft 42RF
Fay reconnaissance flight 2008
Scientific Crew (42RF)

| | |
| --- | --- |
| Lead Scientist | Sim Aberson |
| Dropsonde Scientist | Kathryn Sellwood |
Flight Crew (42RF)

Pilots
Mark Nelson
Al Girimonte
Flight Director
Barry Damiano
Navigator
Gallagher
Flt. Eng.
Greg Bast
Data Tech
Bobby Peek
Green
Elec. Tech
Bill Olney
Chuck Rasko
Darby
<!img src=20080818h1.gif width=500>
Mission Plan :
A mission as Fay emerged from the Cuban coast moving northwestward. A butterfly pattern is planned, modified to make sure we do not fly within 12 nm of land (Cuba and Florida).
Mission Summary :
Take off
Landing
MacDill AFB
15:01 UTC
Louis Armstrong Airport
New Orleans, LA
21:41 UTC
The pattern started with a northwest-southeast pass through the center, though the second leg was modified to go toward the east to stay offshore Cuba. An uneventful second pass from northeast to southwest was then completed. The third pass, south to north, was interesting in that there were two distinct wind speed maxima on the south side, though the northern one was clearly the center as it was concurrent with a wind direction shift (Fig. 1).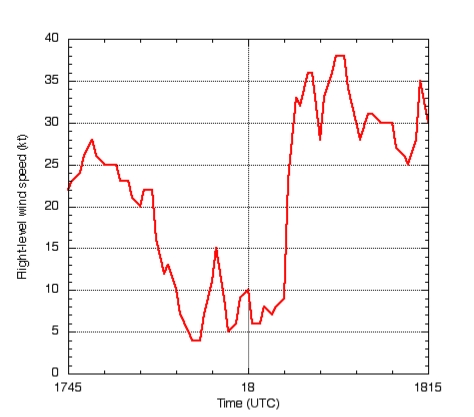 Figure 1: Flight-level wind speed showing multiple wind speed minima along south to north pass through the center of Fay.
A fourth pass, northwest to southeast, was then completed. As the northbound track began to the southeast of the center, Key West radar showed a strong rainband with embedded mesocyclones making landfall in the Florida Keys and Southwest Florida, and some tornado warnings were issued (Fig. 2). The flight track then went along the inside of the first band, then a right turned moved the plane between two bands along the inside of the second. A left turn up the southwestern Florida coast crossed the second band.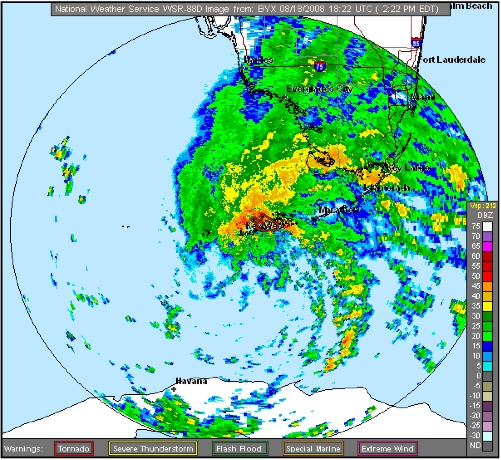 Figure 2: Base radar image from Key West showing cellular band with tornado warning in lower Keys and another band over mainland Monroe County that also spawned tornadoes.
Dropwindsondes were released at regular intervals near the bands, accomplishing two goals:
to obtain data near possibly tornadic rainbands
to obtain data in shallow water to compare with SFMR data obtained from the plane.
Four radar analyses were sent, one for each pass. Fifteen dropwindsondes were released, one had no winds and was not sent off the plane.

Problems :

No major problems were noted except for hotels in New Orleans.
---
Mission Data
1 second listing | NetCDF listing
---
Page last updated September 18, 2008
Return to Mission page.