Mission Summary
20050718I1 Aircraft 43RF
Hurricane Emily Tasked Mission 2005
Scientific Crew (43RF)

| | |
| --- | --- |
| Lead Scientist | Rob Rogers |
| Workstation | Mike Black |
| SFMR | Eric Uhlhorn |
| Cloud Physics | Aaron Bansemer (NCAR) |
Aircraft Crew (43RF)

Pilots
Randy Tebeest
Mark Nelson
Flight Engineers
Dewie Floyd
Navigators
Devin Brakob
Flight Director
Martin Mayeaux
Data Engineers
Jim Barr
Damon San Souci
Mission Plan :
The NOAA N43RF will fly an NHC-tasked SFMR mission into Hurricane Emily and get the 18 and 21 UTC fix after it was emerging from the Yucatan peninsula. The plan called for a figure-4 pattern to be flown at 10,000 ft. altitude with leg lengths of 105 nm. The IP began northeast of the center, then went southwest, then south to coast, perform a beach patrol around to a point south of the center, then head north, then a downwind leg to a point northwest of the center, then a leg to a point southeast of the center. The P3 will leave San Jose, Costa Rica at 10:00 AM EDT and will recover at MacDill AFB, FL at 6:00 PM EDT.
Mission Summary :
The P3 left San Jose, Costa Rica at 10:00 AM EDT as Emily had just passed over the northern tip of the Yucatan peninsula when N43RF reached it. As a result of traversing land, the hurricane had weakened substantially. Flight-level winds (Fig. 1) showed a peak value in the north and northeast octants of 75 kt. Peak surface winds measured from the SFMR were between 60 and 65 kt. The minimum sea-level pressure held basically constant between the two fixes at a value of 983 and 984 mb. The eyewall was open on the southwest, south, and southeast side initially, but it was showing some signs of closing again by the final pass. As a result of these observations, NHC reduced the intensity of Emily to a minimal hurricane. N43RF recovered at MacDill AFB, FL at 6:00 PM EDT.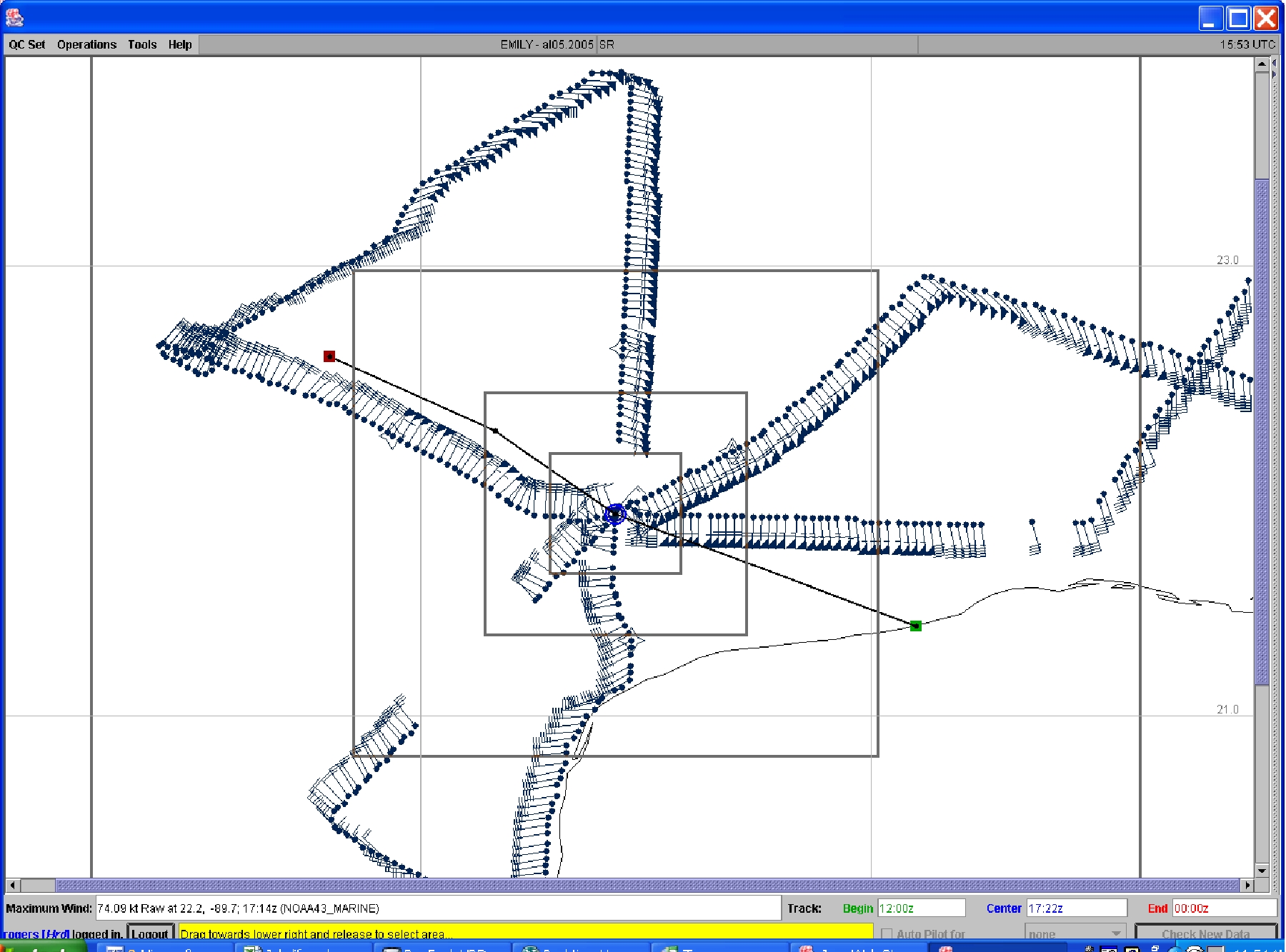 Figure 1. Flight-level wind barbs (kt) for flight 20050718I.
Problems :
There were no problems. All of the instruments worked well.
Rob Rogers
Lead Project Scientist
Mission Data :
1 second data | NetCDF file
Radar coverage

| | |
| --- | --- |
| Start | End |
| 16:34:05 Z | 21:20:35 Z |
---
Page last updated August 22, 2005
Return to Mission page.