Mission Summary
20140920I1 Aircraft 43RF
Ferry flight
Aircraft Crew (43RF)

| | |
| --- | --- |
| Aircraft Commander | Mark Sweeney |
| Co-pilot | Chris Kerns |
| Co-pilot | Adam Abitbol |
| Navigator | Tim Gallagher |
| Flight Engineer | Joe Heystek |
| Flight Engineer | Chris Lalonde |
| Flight Director | Jack Parrish |
| Flight Director | Mike Holmes |
| System Engineer | Dana Naeher |
| Data Technician | Terry Lynch |
| Data Technician | Jeff Newnam |
| AVAPS | Damon San Souci |
| Mechanic | Randy Mitchell |
Scientific Crew (43RF)

| | |
| --- | --- |
| IWRAP | Sulieman Alweiss (NESDIS) |
Mission Plan :
NOAA43 will ferry back from Edouard operations. Takeoff is scheduled for 1600 UTC from St. Croix, USVI and recover at MacDill AFB, FL by 2000 UTC the same day.
Mission Summary :
Take off
Landing
St. Croix, USVI
15:46 UTC
MacDill AFB, FL
19:42 UTC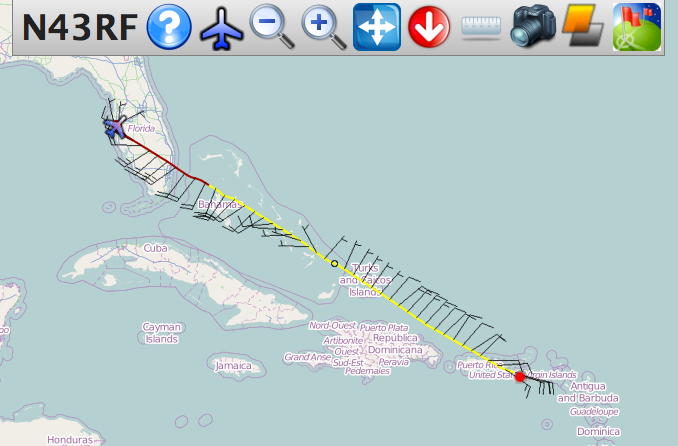 Final track
Mission Evaluation:
Problems:
Mission Data :
NetCDF | 1 second data | serial | Flight Director's manifest

---
Page last updated Feb. 17, 2015
Return to Mission page.