Mission Summary
20140911I1 Aircraft 43RF
Ocean Winds/Ocean Survey flight
Aircraft Crew (43RF)

| | |
| --- | --- |
| Aircraft Commander | Mark Sweeney |
| Co-pilot | Chris Kerns |
| Co-pilot | Pat Didier |
| Navigator | Tim Gallagher |
| Flight Engineer | Joe Heystek |
| Flight Engineer | Chris Lalonde |
| Flight Director | Ian Sears |
| Flight Director | Mike Holmes |
| System Engineer | Dana Naeher |
| Data Technician | Terry Lynch |
| AVAPS | Damon San Souci |
Scientific Crew (43RF)

| | |
| --- | --- |
| LPS | Paul Chang (NESDIS) |
| Radar | Eric Uhlhorn (HRD) |
| IWRAP | Sulieman Alweiss (NESDIS) |
| IWRAP | Joe Sapp (NESDIS) |
Mission Plan :
NOAA43 will conduct both an HRD-tasked Ocean Survey and a NESDIS-tasked Ocean Winds mission. It will collect IWRAP data in precipitation coincident with polar satellite overpasses, and launch AXBTs near the glider grid to the north of Puerto Rico and perform a calm ocean HI-SFMR module. Takeoff is scheduled for 1500 UTC from St. Croix, USVI and recover there at 2100 UTC.
Mission Summary :
Take off
Landing
St. Croix, USVI
15:29 UTC
St. Croix, USVI
20:59 UTC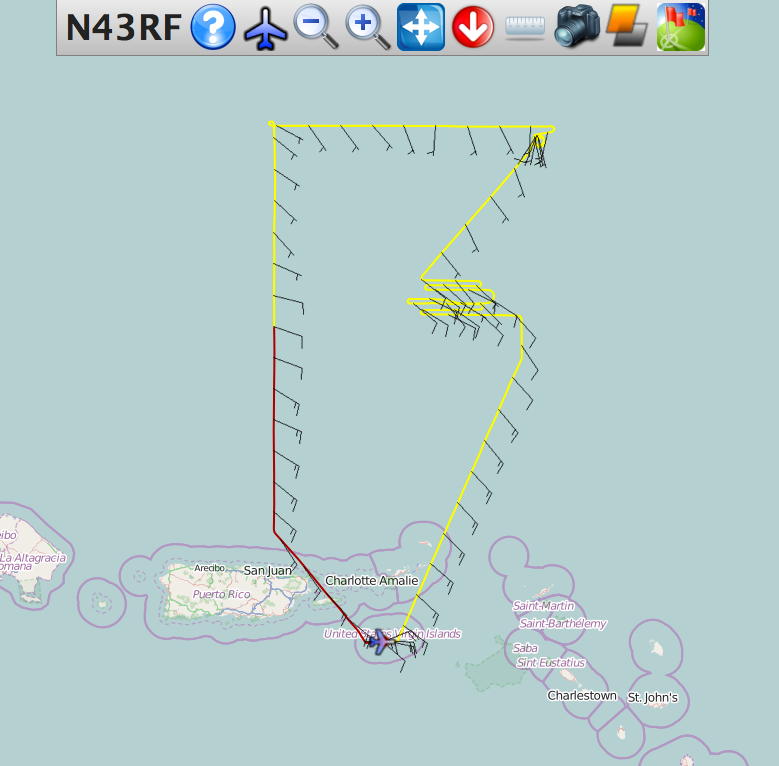 Final track

17 AXBTs launched and sent, 2 dropsondes launched but not transmitted.

Mission Evaluation:

Problems:

Mission Data :

NetCDF file | 1 second data | serial | Flight Director's manifest

---
Page last updated Feb. 17, 2015
Return to Mission page.