Mission Summary
20140804I1 Aircraft 43RF
TDR Tropical Storm Bertha

Aircraft Crew (43RF)

| | |
| --- | --- |
| Aircraft Commander | Harris Halverson |
| Co-pilot | Mark Sweeney |
| Co-pilot | Pat Didier |
| Navigator | Pete Siegel |
| Flight Engineer | Paul Darby |
| Flight Engineer | Joe Klippel |
| Flight Director | Rich Henning |
| System Engineer | Jim Roles |
| Data Technician | Steven Paul |
| Data Technician | Dana Naeher |
| AVAPS | Jeff Smith |
Scientific Crew (43RF)

| | |
| --- | --- |
| LPS | Lisa Bucci (HRD) |
| Dropsondes/AXBT | Jun Zhang (HRD) |
| Radar | Sim Aberson (HRD) |
| Guest | Naomi Mizoguchi (Cineminga) |
| Guest | Jonathan Baudoin (Cineminga) |
Mission Plan :

Proposed track
The mission is to conduct an EMC-tasked TDR pattern in Tropical Storm Bertha.
Mission Summary :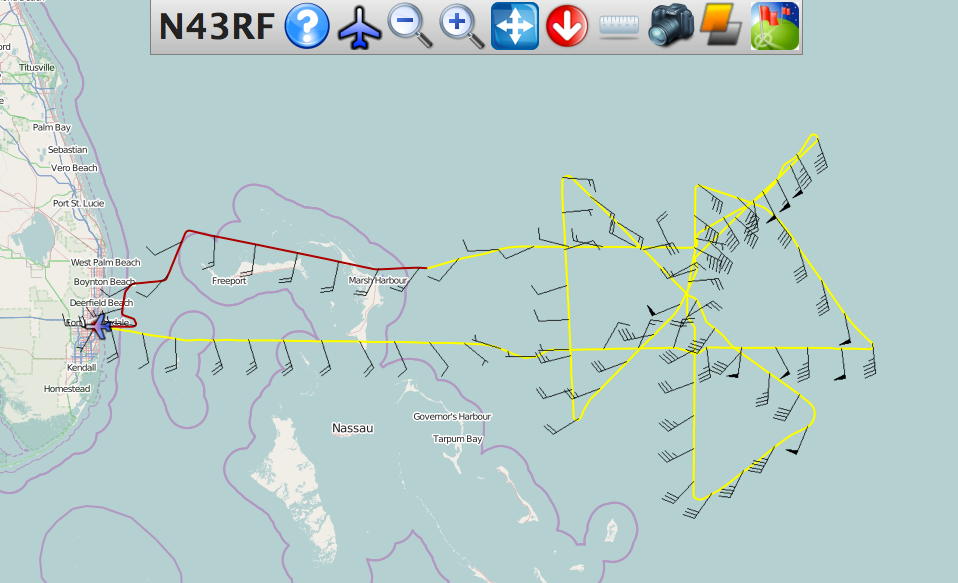 Final track
Take off
Landing
Ft. Lauderdale, FL
06:22 UTC
Ft. Lauderdale, FL
14:09 UTC
25 dropsondes deployed with 24 transmitted. 10 AXBTs were deployed, but one was bad so only 9 transmitted.
Mission Evaluation:
Problems :
---
Mission Data :
NetCDF | One second data | Flight Director's manifest

---
Page last updated March 24, 2015
Return to Mission page.