Mission Summary
20140730N1 Aircraft 49RF
Ferry flight

Aircraft Crew (49RF)

| | |
| --- | --- |
| Aircraft Commander | Jeff Hagan |
| Co-pilot | Kristie Twining |
| Co-pilot | David Cowan |
| Flight Director | Barry Damiano |
| Dropsonde Scientist | Shannon Hefferan |
| Electronic Technician | Gabe Defeo |
| AVAPS Technician | Dale Carpenter |
| Data Engineer | Alan S. Goldstein |
| Data Engineer | Leonard Miller |
| Crew Chief | Angel Negron |
Scientific Crew (49RF)
None
Mission Plan :
NOAA 49RF will ferry to Barbados, BWI, for a series of missions into Tropical Disturbance AL93. The G-IV will leave MacDill AFB, FL 1730 UTC on July 30th and will recover back at Barbados, BWI by 2100 UTC the same day.
Mission Summary :
Take off
Landing
MacDill AFB, FL
17:50 UTC
Barbados, BWI
21:25 UTC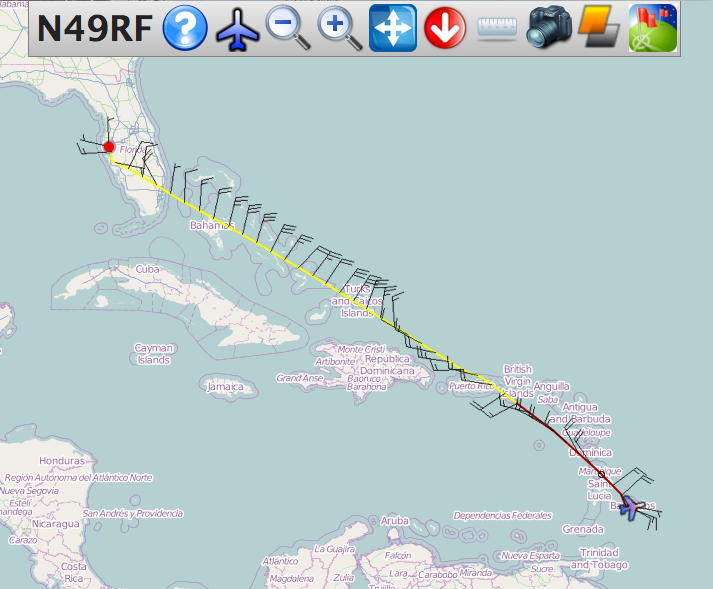 Final track
Problems :
---
Mission Data :
Flight Director's log | Flight Director's form | serial data | NetCDF file | 1 second file
---
Page last updated March 24, 2015
Return
to Mission page.