Mission Summary
20140705H1 Aircraft 42RF
Reconnaissance/Extratropical Transition into Arthur

Aircraft Crew (42RF)

| | |
| --- | --- |
| Aircraft Commander | Justin Kibbey |
| Co-pilot | Chris Kerns |
| Co-pilot | Adam Abitbol |
| Navigator | Pete Siegel |
| Flight Engineer | Joe Klippel |
| Flight Engineer | Chris Lalonde |
| Flight Director | Barry Damiano |
| System Engineer | Charles Lynch |
| System Engineer | Jorge Delgado |
| Data Technician | Joe Bosko |
| Data Technician | Todd Richards |
Scientific Crew (42RF)
None
Mission Plan :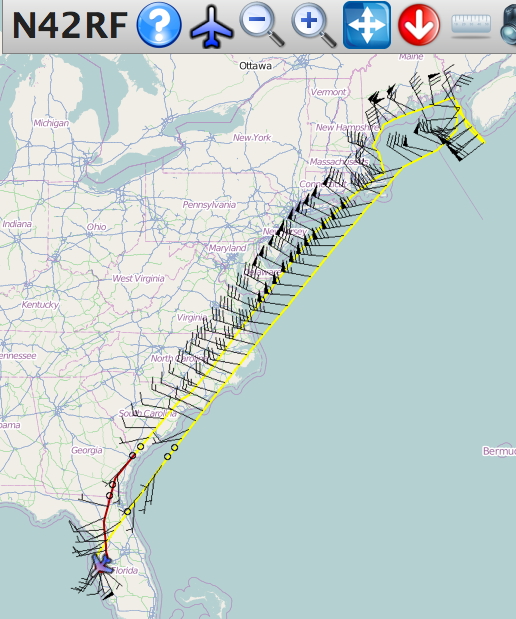 Actual track.
Conduct an NHC-tasked Reconnaissance mission into Arthur, which is tracking northeastward off the New England coast.
Mission Summary :
Take off
Landing
MacDill AFB, FL
06:12 UTC
MacDill AFB, FL
15:59 UTC
System declared post-tropical at 09 Z. Flight returned to MacDill AFB, FL rather than recover at Long Island due to simplified pattern in the storm.
Mission Evaluation:
Problems :
---
Mission Data :
Flight Director's summary | Flight Director's log | NetCDF data | One second data | serial data
---
Page last updated March 3, 2015
Return to Mission page.