Coral scientists at NOAA's Atlantic Oceanographic Meteorological Laboratory (AOML) and the University of Miami Rosenstiel School's Cooperative Institute for Marine and Atmospheric Studies (CIMAS) will be presenting their research at the 14th International Coral Reef Symposium (ICRS) from July 19-23, 2021, which will be held virtually for the first time in the history of the ICRS.

The ICRS will bring together a diverse group of more than 2,500 coral reef experts, early career researchers, policy makers, managers, and other stakeholders to globally engage and exchange information aimed at developing scientific solutions that address the current challenges and future outlook of coral reef health.
"The International Coral Reef Symposium is one of the largest coral reef conferences and provides a venue for thousands of coral reef researchers from across the globe to convene and discuss their latest findings on topics ranging from molecular biology of reef organisms to satellite-derived assessments of reef structure and biology and all biological scales in-between", said Anderson Mayfield, a CIMAS coral scientist at AOML and the ICRS treasurer.
This year, the collaborative efforts of AOML and CIMAS scientists will be highlighted internationally through presentations by Allyson DeMerlis, Dr. Ewelina Rubin, Dr. Anderson Mayfield, Dr. Ian Enochs, Nathan Formel, Dr. Ana Palacio, Dr. Stephanie Rosales, and John Morris, who will share their research on a variety of topics that impact coral reefs. Their talks and workshops will focus on coral reef communities affected by environmental stressors, nutrient pollution, ocean warming, ocean acidification, coral resilience, and other factors. The full list of ICRS session themes and workshop schedule can be found on the ICRS website.
"As a graduate student who is new to this field, I am looking forward to attending the ICRS for my first conference and presenting research from the AOML Coral Program," said Allyson DeMerlis, a Rosenstiel graduate student and CIMAS coral scientist at AOML. "This international conference provides us with a great opportunity to connect with other researchers and managers and learn from each others' experiences. I am excited to share my findings regarding coral thermal tolerance following pre-exposure to variable temperatures, as this research has implications for the ever-growing field of coral reef restoration science. As ocean temperatures continue to rise, it is important to understand how we can assist reef-building corals in adapting to rapid, inevitable changes."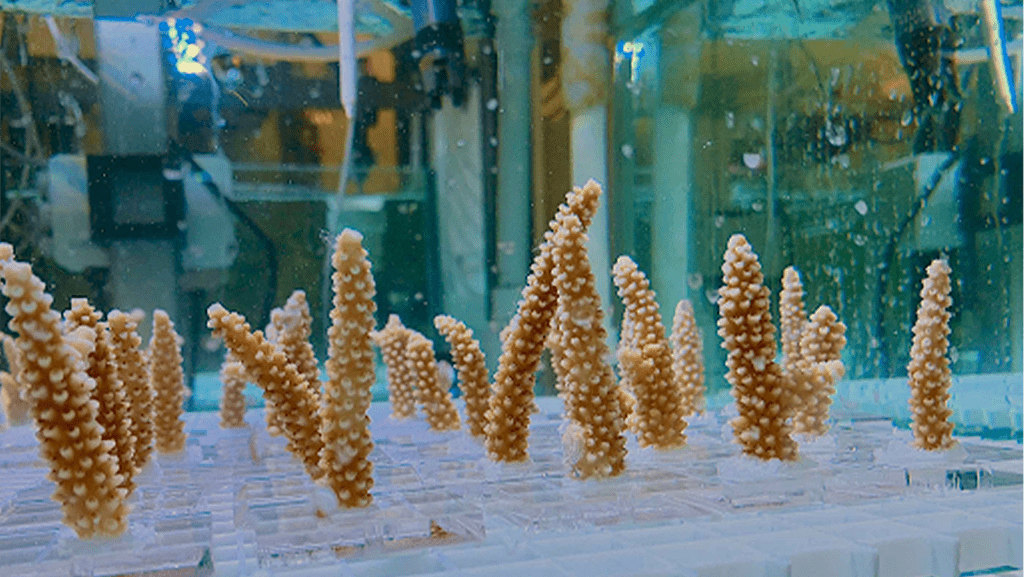 Scientists at AOML and CIMAS preform coral research at field sites in the Gulf of Mexico, Florida Keys, and Puerto Rico through the National Coral Reef Monitoring Program and through studies conducted in the AOML and CIMAS Experimental Reef Lab (ERL) at the University of Miami Rosenstiel School. These studies examine coral response to precise, controlled changes in environmental conditions to determine coral resilience to stressors such as rising temperatures, ocean acidification, and nutrient flux. Additionally, AOML and CIMAS coral scientists are conducting experiments in the ERL to study stony coral tissue loss disease, which has caused rapid and widespread mortality to coral reefs in parts of the Florida Keys and Caribbean.
"Participation in this ICRS is different from previous conferences because of the additional challenges of virtuality," said Ana Palacio,Ph.D., a coral scientist at AOML. "However, solving the threats that coral reefs face requires that the community of scientists, managers, and stakeholders keep sharing and discussing their research so we can act quickly to protect these ecosystems. In my case, I will show how the response of one of our iconic corals, Acropora cervicornis, to climate change can be greatly improved by reducing nutrient pollution in coral reefs. Addressing global stressors is imperative and requires global action. However, it gives us hope to know that local policy and management practices can still have a huge impact on the health of our reefs."
At a time when coral reefs remain degraded and continue to experience a multitude of threats, international collaboration between the scientific community, managers, and other stakeholder groups is paramount for working toward solutions to protect valuable marine resources. Through their participation in the ICRS, scientists at AOML and CIMAS will share research presented on a global platform that will support efforts to minimize damage to coral reefs and sustain healthy coral reef ecosystems.