Numerical Model Outputs
Why are they helpful?
Numerical models provide a useful mean to estimate surface currents using computer algorithms. They have the advantage of producing estimates at different depths, where the water flow may be completely different than at the surface (top maps). Some models also produce estimates of wind conditions (bottom maps), which affect the circulation in the surface of the ocean. These maps are used by scientists, managers, and decision makers to evaluate the ocean currents at different depths, particularly when and where direct measurements are not available.
The map below shows surface currents in the Gulf of Mexico obtained from numerical data using the Intra-Americas Sea Ocean Nowcast/Forecast System (IASNFS) dataset.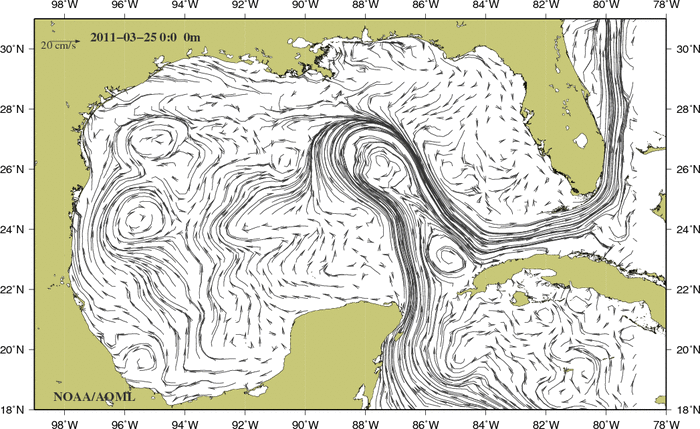 For surface current fields on different dates and depth:
To see an animation of the ocean current fields, click on one of the depth below.
Data source: Northern Gulf Institute (NGI)
The map below shows vector winds over the Gulf of Mexico and the Atlantic Ocean immediately east of Florida obtained from the Global Forecast System (GFS) model. Scale information for the vectors is presented in the upper left of the plot. The background color denotes wind speed as indicated by the color scale at the lower left of the plot. This map is updated daily at 12:00 UTC on the date indicated in the title.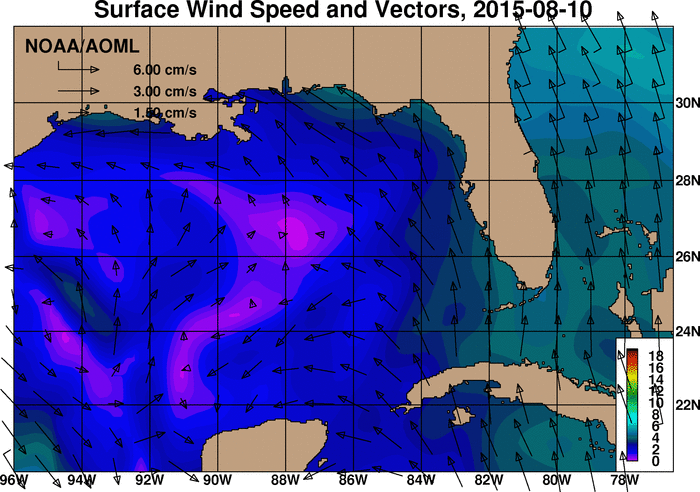 For GFS winds on previous dates:
To see an animation of the GFS winds, please select one of the month below:
Back to main Monitoring the Gulf of Mexico Conditions.