Figures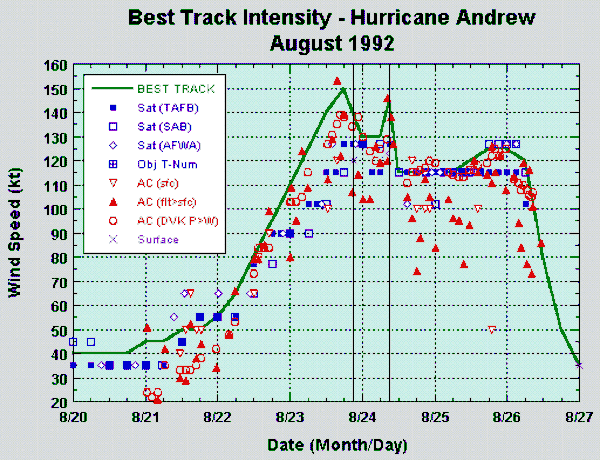 Fig. 1 Selected wind observations and proposed best track maximum sustained surface wind speed curve for name/dates. Aircraft observations have been adjusted for elevation using 90%, 80%, and 80% reduction factors for observations from 700 mb, 850 mb, and 1500 ft, respectively.
---
Fig. 2. Pressure best track for Hurricane Andrew.

---
Fig. 3. Original wind best track for Andrew.

---
Fig. 4. Cell-track velocities during Andrew's landfall from the Miami radar.
---
Fig. 5. Best-track pressure-wind data from Brown and Franklin (2002). Circles are NHC best track pressure-wind pairs from 1997-2001 when reconnaissance data were present. Black line is best fit curve to these data. Dashed blue line is the operational pressure-wind relationship used by NHC. Purple X's are the wind-pressure pairs from the proposed Andrew revision for wind speeds of at least 125 kt.

---