Mission Summary
20121015H1 Aircraft 42RF
Research mission into Rafael

Aircraft Crew:

Aircraft Crew (42RF)

Aircraft Commander
<!td align=leftAl Girimonte
Co-pilot
<!td align=leftCathy Martin
Co-pilot
<!td align=leftJustin Kibbey
Navigator
<!td align=leftChris Sloan
Flight Engineer
<!td align=leftKen Heystek
Flight Engineer
<!td align=leftPaul Darby
Flight Director
<!td align=leftIan Sears
Flight Director
<!td align=leftRichard Henning
Data Technician
<!td align=leftJoe Bosko
AVAPS
<!td align=leftCharles Lynch
AVAPS
<!td align=leftJeff Smith
Electronics Technician
<!td align=leftTodd Richards

Scientific Crew (42RF)

None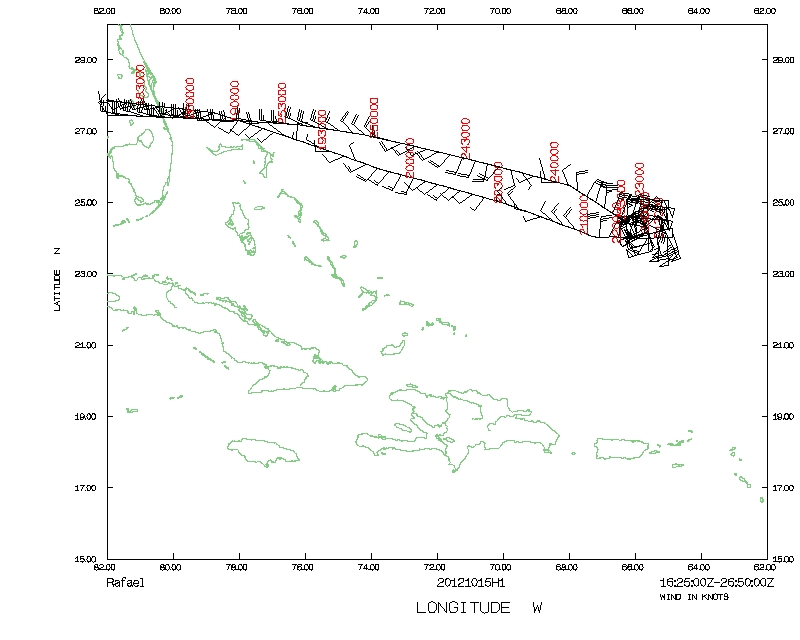 Mission Plan :
Fly a training and proficiency mission into Tropical Storm Rafael. Pattern will consist of a single Figure-4.
Mission Summary :
Take off
Landing
MacDill AFB, FL
17:51 UTC
MacDill AFB, FL
02:41 UTC
The aircraft completed its mission and landed at MacDill AFB at 02:41 UTC the next day.
Mission Evaluation:
Problems :
---
Mission Data :
1sec data | NetCDF file | SFMR data
---
Page last updated Nov. 6, 2012
Return to Mission page.