Mission Summary
20130815I1 Aircraft 43RF
Genesis/TDR TropDist AL92

Aircraft Crew (43RF)
Aircraft Commander
<!td align=leftHalverson
Co-pilot
<!td align=leftMark Nelson
Navigator
<!td align=leftPete Siegel
Flight Engineer
<!td align=leftPaul Darby
Flight Director
<!td align=leftJess Williams
Data Technician
<!td align=leftJoe Bosko
AVAPS
<!td align=leftDale Carpenter
Electronics Technician
<!td align=leftBobby Peek
Scientific Crew (43RF)

| | |
| --- | --- |
| LPS | Mike Black |
| Radar | Lisa Bucci |
Mission Plan :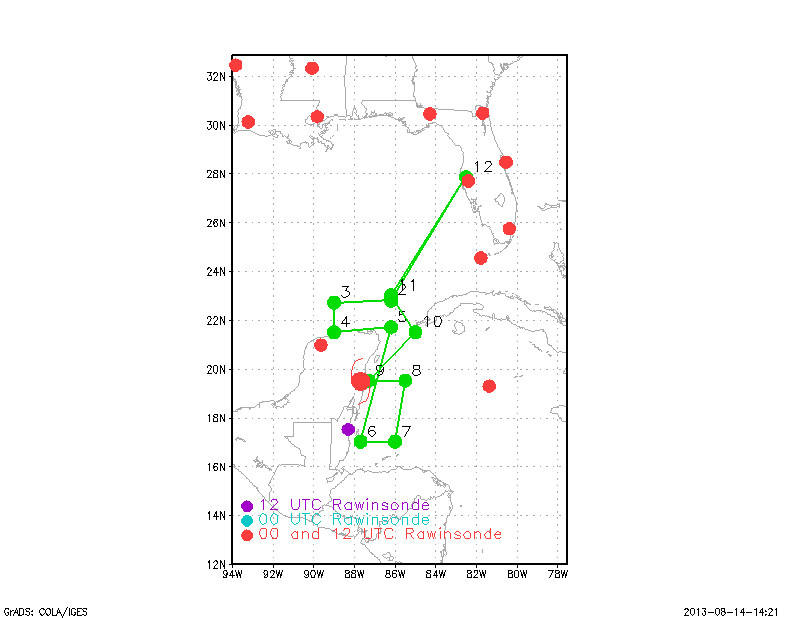 Proposed track
NOAA 43RF will carry out a Genesis/ TDR missions into Tropical Disturbance AL92. The P-3 will leave MacDill AFB, FL 1800 UTC and will recover at MacDill AFB, FL by 0200 UTC the next day.
Mission Summary :
Mission cancelled due to forecast track of AL92
Problems :
---
Mission Data :
---
Page last updated August 14, 2013
Return to Mission page.